You can experience true relaxation at one of the most beautifully situated working olive farms in the Western Cape.
Nestled at the foot of spectacular Stellenbosch Mountain, Friesland Farm is the perfect getaway.
Tucked away in a pristine valley, our 30-hectare olive farm is a haven for nature lovers and exhausted city dwellers alike. Make our tastefully decorated Cape Dutch-style cottage your home away from home, and come prepared to slow down, relax and be revived by the slow, steady heartbeat of the Cape Winelands.
Whether you choose to stay for a few weeks, a month or even longer, Friesland Cottage offers unrivalled tranquility with all the luxuries and comforts of home.
"THIS MAGNIFICENT VIEW, THIS SENSATIONAL HOUSE – WORDS FAIL US. THE PEACE AND QUIET, THE VIEW THAT STRETCHES AS FAR AS THE EYE CAN SEE – FRIESLAND FARM IS WITHOUT COMPARE. WE LOVE THE FACT THAT OUR HOSTS NEVER MADE US FEEL LIKE STRANGERS."
Petra and Stefan, Germany
"IT IS A DREAM HERE, A LITTLE BIT OF PARADISE."
Elke and Werner, Germany
"FRIESLAND FARM IS A SPECIAL EXPERIENCE – OUR DEAR HOSTS, THE PEACE AND QUIET, THE VIEW TO TABLE MOUNTAIN, THE SUNSETS, THE LEISURELY MEALS…WE ARE ALWAYS SAD TO SAY GOOD-BYE."
Undine and Jens-Peter, Germany
"THIS FARM IS ALMOST LIKE OUR SECOND HOME; IT IS TRULY A BIT OF PARADISE. AND OUR HOSTS – WE WILL THINK OF YOU EVERY TIME WE EAT STRAWBERRY TART."
Hannelore and Reiner, Germany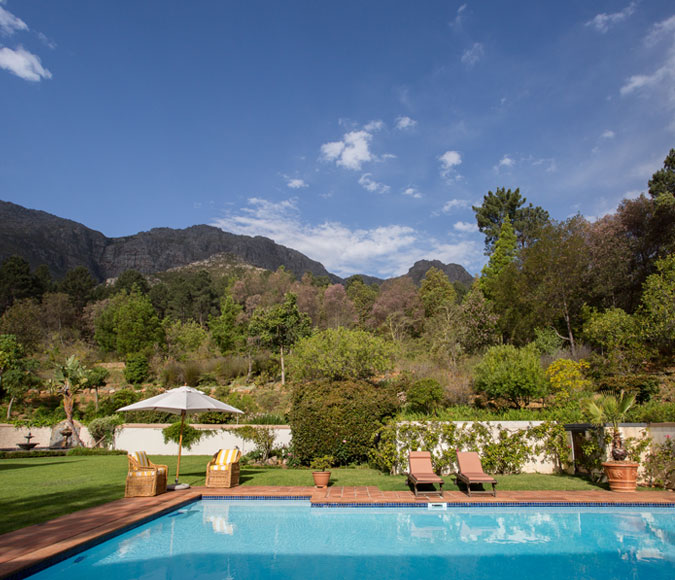 At Friesland Farm, you'll experience the convenience of proximity and the luxury of peace and security.
Located a mere 10 minutes outside the picturesque town of Stellenbosch and just 30 minutes from Cape Town International Airport, our farm's location offers a unique combination of convenient proximity and a high degree of privacy, peace and security.